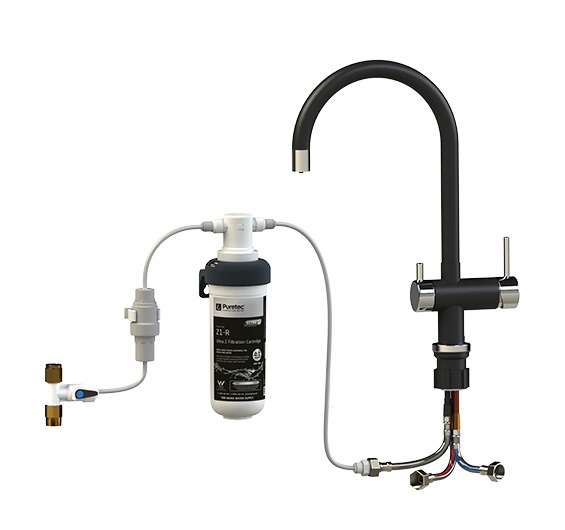 Tripla BL1 Tap with quick-twist filter, 0.1 micron
The Puretec Z1-BL1 'mixer tap & filter' package incorporates ultra-fine filtration technology and the Tripla filtration technology and the Tripla black tripla-action mixer tap, all-in-one system. This system use Ultra Z Filtration Technology, providing you clean, beautiful tasting drinking water, free from csyts, bad taste and odours. It also reduce chlorine, chemicals and sediment leaving all vital minerals. The Tripla 3-in-1 mixer tap gives you hot, cold, filtered or rainwater water, all from just one mixer. There's absolutely no mixing of filtered and unfiltered water. The new Tripla Black series satisfies today's demand for black tapware in modern kitchens. Matt black tapware goes with everything. Every colour. Every surface. Every style of the kitchen. Yet looking good in all situations is just part of the appeal. This innovative Tripla action combines versatility with functionality. The Tripla 3-in-1 black mixer tap gives you hot, cold and filtered mains water, all from just one mixer. Note: Tripla™ black mixer taps are also available as a stand-alone product.
FEATURES & BENEFITS
Designed to filter your Mains and Town water supply.

• Quick and easy installation.
• Sleek, contemporary lines and effortless function. Mains and filtered water have separate outlets, with independent tubes inside the tap, you can rest assured your filtered water and mains water will never mix.
• Innovate triple-action tapware! Hot, cold, filtered and/or rainwater, but just distinguished mixer.
• This triple action tapware delivers a host of practical features like the 360 degree swivel, also plenty of clearance and height for filling jugs, bottles, and for washing up.
• Valve-in-head filter means no mess, quick-twist, hygienic cartridge change.
• Uses Ultra Filtration Technology to finely filter filter water down to 0.1 micron through an advanced three stage process.
• Reduces sediment, chemicals including chlorine, bad taste, odour and also protects against cysts and bacteria such as E. coli.
| Specification Name | Detail |
| --- | --- |
| SPECIFICATIONS | |
| Ordering CodeZ1-BL1 | |
| Replacement Cartridge(s)Z1-R | |
| Tap Style3-Way Mixer Tap | |
| Tap ModelTRIPLA-BL1 | |
| Flow Rate8 Litres/Minute WELS 3 Star Rated | |
| OutletsHot / Cold & Separately Filtered | |
| Min/Max Temperature0° - 38°C (protect from freezing) | |
| Min/Max Pressure172 - 520 kPa | |
| Micron Rating0.1 Micron* | |
| Tap Hole33 mm diameter | |
| WaterMarkAS/NZS 3497 Licence No. WM 74617 Australian Certification Services | |
| Warranty6 years^ | |
| | |