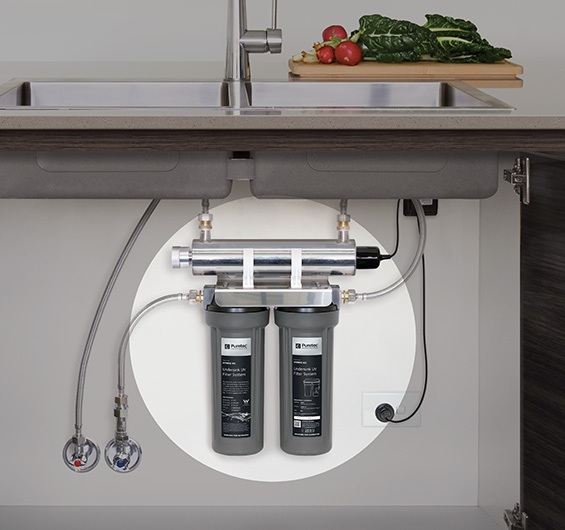 The Hybrid Mini Series uses Radfire ultraviolet technology to kill 99.9% of bacteria. It is eco-friendly and does not use chemicals. This system can be connected quickly and easily to any mixer tap. It turns your rainwater into pure, safe, delicious and healthy drinking water.
The Hybrid-M1 Series filter system will easily fit under your existing kitchen bench. All plumbing fittings are included for easy installation.
Puretec Hybrid-M1 Series system incorporates the most advanced filtration technology. It uses Radfire UV technology to kill bacteria, a washable sediment filter cartridge, a silver impregnated cartridge to remove bad taste, odour and prevents bacterial growth. The Radfire Ultraviolet Technology is a natural process of water purification that is eco-friendly and chemical free. Heavy duty construction allowing more flow with less pressure, making it a better option where there is more usage or very dirty water.
The Hybrid-M1 Series incorporates Puretec's long life filter technology, so you can go longer between filter replacements, and comes with our 3 Year Platinum Protection Warranty.
| Specification Name | Detail |
| --- | --- |
| Model: | HYBRID -M1 |
| Replacement Parts and Cartridges | |
| Sediment Removal: | PL051 |
| Taste & Odour Removal: | MC011-S |
| Lamp: | Puretec RL2 |
| Min/Max Temperature: | 0 - 52°C (protect from freezing) |
| Maximum Flow: | 8 litres per minute |
| Min/Max Pressure: | 200 - 875 kPa |
| Connection: | ½" BSP [15 mm] |
| System Dimensions: | 355 (w) x 375 (h) x 140 (d)mm |
| Warranty: | 3 years (Important Note: 3 year warranty is 1 year parts and labour, plus 2 years parts only) |